Nov 2012
Ring-Shaped Steel Plate Shear Walls
The ring-shaped steel plate shear wall (RS-SPSW) builds on the advantages of conventional solid steel plate shear walls, but has improved seismic performance, reduced demands on boundary elements, and allows simple shear beam-to-column connections.  The RS-SPSW consists of a SPSW in which the steel web plate is cut with a pattern of holes leaving ring-shaped portions of steel connected by diagonal links.  The ring shape resists out of plane buckling through the mechanics of how a circular ring deforms into an ellipse.  It has been shown analytically, through prior experimentation, and finite element analysis that the ring's compression diagonal will shorten a similar amount as the tension diagonal elongates.  Essentially, the slack is removed in the direction perpendicular to the tension field thus resisting the tendency for the plate to buckle out of plane.  Because of the unique features of the ring's mode of distortion, the load-deformation response of the resulting RS-SPSW system can exhibit full hysteretic behavior.  Reduced buckling also leads to greatly improved stiffness.  Improved energy dissipation and stiffness make the moment connections that are required for conventional SPSW unnecessary.  Furthermore, through the introduction of more design variables associated with the geometry of the rings, it is possible to separately tune the strength, stiffness, and ductility of the RS-SPSW system.
A combined experimental and computational research program is underway to develop this new structural system.  Parametric finite element modeling has been performed to identify key variables and quantify their effect on system behavioral characteristics (Maurya 2012).  Tests, currently underway on panels that are approximately 1m x 1m (see Figure 3) have validated the RS-SPSW concept and further testing on full scale panels are planned for the upcoming year.  Further computational studies will be conducted to examine the behavior of the RS-SPSW buildings and determine appropriate design procedures.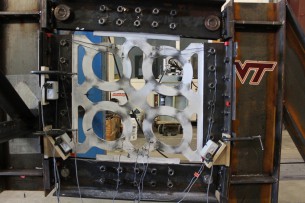 Ring-Shaped Steel Panel Tested to Large Drift Demonstrating Resistance to Out-of-Plane Buckling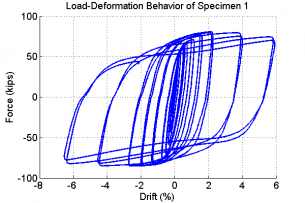 Hysteretic Behavior of the Ring-Shaped Steel Plate Shear Wall
Want to see a video of the test?  Click Here!
Maurya, A. (2012) Computational Simulation and Analytical Development of Buckling Resistant Steel Plate Shear Wall (BR-SPSW), M.S. Thesis, Virginia Tech
Eathertion, M.R., Egorova, N., and Maurya, A. (2013) "Development of Ring-Shaped Steel Plate Shear Walls that Resist Buckling for Improved Seismic Performance" 10th International Conference on Urban Earthquake Engineering (CUEE), March 1-2, Tokyo Institute of Technology, Tokyo, Japan.
Maurya, A., Egorova, N., and Eatherton, M.R. (2013) "Development of Buckling Resistant Steel Plate Shear Walls" Proceedings of the 2013 ASCE Structures Congress, March 2-4, 2013 Chicago, Illinois.